Why Do We Need Fire Insurance?
Massive Fire in Mumbai's Kamala Mills Compound Tragedy struck on the 29th of December with a fire breaking out in a pub in a building in the Kamala Mills compound.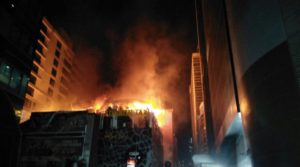 What should various Restaurants,Offices, Manufacturing Units, Godowns, Service Oriented Enterprises
Should learn from this incident Machinery&various other assets and are constantly exposed to risks, which can disrupt their daily working. It is important for all to have a Fire Insurance to financially protect themselves against losses or damages
A Fire Insurance Policy covers the financial loss which insured may suffer due to destruction of or damage to property or goods, caused by fire, during a specified period and up to agreed amount.
Importance of Fire Insurance Policy:
Cover Against Natural disaster
Protection to your valuable assets like building,

 machinery etc

Reduces the Financial Burden

Financial support at the time of Restart of Business
Risks covered under Fire Insurance Policy are:
FireBush Fire
Lightning
Subsidence and landslide including Rock slide
Explosion/Implosion
Riot, Strike, Malicious Damage
Storm, Typhoon, Hurricane, Tornado, Flood and Inundation  and many more..
Procedure for settlement of Claim:

Few instances of the losses which are not covered by fire insurance policy:
Negligence
Loss or damage of property due to nuclear perils war, invasion, act of foreign enemy
Electrical/mechanical breakdown due over running or excessive usage
Pollution or contamination
Loss by theft during or after the happening of fire
Consult a Professional to know more about what can be covered under the policy before buying the Policy.
Go for optimum coverage and not just get attracted by cheaper Premium Amount.